After three races it is the leaders in the largest and smallest/slowest classes that have retained their perfect scorelines at the half way stage of the Maxi Yacht Rolex Cup. This pinnacle event of the maxi sailing calendar is organised by the Yacht Club Costa Smeralda in conjunction with maxi yachting's governing body, the International Maxi Association. It is also the third of five events in the IMA's annual Mediterranean Maxi Inshore Challenge.
This morning many thought today would be unsailable due to a lack of wind. Until mid-afternoon, and after one aborted start, this appeared to be the case. Finally the easterly sea breeze established with the first start taking place at 1535. After an unusual downwind start, the fleets were sent off on a course up 'Bomb Alley', between the Sardinian mainland and the Costa Smeralda's off-lying islands, and back, before continuing on on to the Porto Cervo finish line. In Bomb Alley the wind piped up to 12-13 knots, gusting to 16.
In the 100+ft Super Maxi class, there was further disappointment for the crew of the magnificent J Topaz. She led into Bomb Alley, only once again to see victory slip through her fingers as she was reeled in and passed by Ronald de Waal's 88-year-old Velsheda, exiting Bomb Alley en route to the finish.
Along with American Mike Toppa, Britain's Andy Beadsworth is temporarily in the Velsheda tactical hotseat, standing-in for absent Kiwi afterguard such as Tom Dodson, confined to New Zealand due to pandemic-related travel restrictions. Still surprisingly in awe for such a seasoned pro sailor, Beadsworth explained their pass: "There were a lot of short tacks and maybe we were a little bit faster, or maybe there was a little more breeze to the left, but we were slowly gaining on them and they had to put in two [extra] short tacks. We managed to live off them – they tried to squeeze us, but we got square and took them all the way to the corner.
"It is a life experience having a big tacking duel in Js coming up through Bomb Alley."
Meanwhile at the opposite end of the fleet, in the Mini Maxi 3 class, Canadian Terry Hui and the crew of the immaculately sailed Wally 77 Lyra scored their third consecutive bullet. After their massive win on day one, Lyra's margins over second have since reduced dramatically. Today there was a welcome return to form for another perennial Maxi Yacht Rolex Cup winner, Riccardo de Michele's silver Vallicelli 78 H20, which finished second, just two minutes and 12 seconds astern under IRC corrected time.
In the Maxi class, Irvine Laidlaw and Highland Fling XI's winning streak finally came to an end, the day concluding with joint winners in Claus-Peter Offen's venerable Wally 100 Y3K (a welcome 60th birthday present for navigator Mike Broughton) and David M. Leuschen's Reichel/Pugh designed Wallycento Galateia.

Comanche and Rambler 88 plus the Wallycentos Galateia and Magic Carpet Cubed led the Maxi fleet around the race track. Photo: IMA / Studio Borlenghi
The win came as a surprise for Offen. "We have been doing not so badly for the last two days. The crew work is very nice. Today we thought we were mid-field – fifth or sixth – so it was a nice day! We are the heaviest of all the boats so generally moderate/average breeze is more in our favour."
Offen, who is a former President of the International Maxi Association, was also beaming due to the strong feeling surrounding this event similar to a long-overdue family reunion, and a major one thanks to the surprisingly strong 40+ turn-out of maxi yachts. "It is fantastic there are so many people who have come back. I was worried there wouldn't be, but you see all this life…everyone's back!"
Meanwhile Galateia did well starting on starboard gybe, but strategist and helm coach Kiwi Kelvin Harrap reckoned that their smart white-hulled Wallycento was just going better in the 10+ knot conditions, having struggled in the lighter first two days. "It was the best sailing – it was shifty. We were quite close on boat speed with Rambler and going backwards and forwards with them." Usually Galateia competes here in the Wally class but this year she and Magic Carpet Cubed are in the Maxi class, where there are six 100 footers. "It makes it harder because everyone sails at different angles."
The odd tie at the top in today's race was due to a 2% time penalty Galateia received for an unfortunate start line collision with Highland Fling XI. Irvine Laidlaw's yacht finished fourth today but overall leads by a point from Magic Carpet Cubed, in turn one point ahead of Y3K.
In the Mini Maxi 1, the competition between the former Maxi 72s remains intense. As on day one, today's race went to defending champion Dario Ferrari's Botin 72 Cannonball, but with George Sakellaris' Proteus second. Overall Cannonball is now four points clear of Hap Fauth's second placed Bella Mente. American Jim Swartz's Vesper (formerly the 2017/18 Maxi 72 World Champion Momo) lies one point further adrift in third overall, after finishing third today.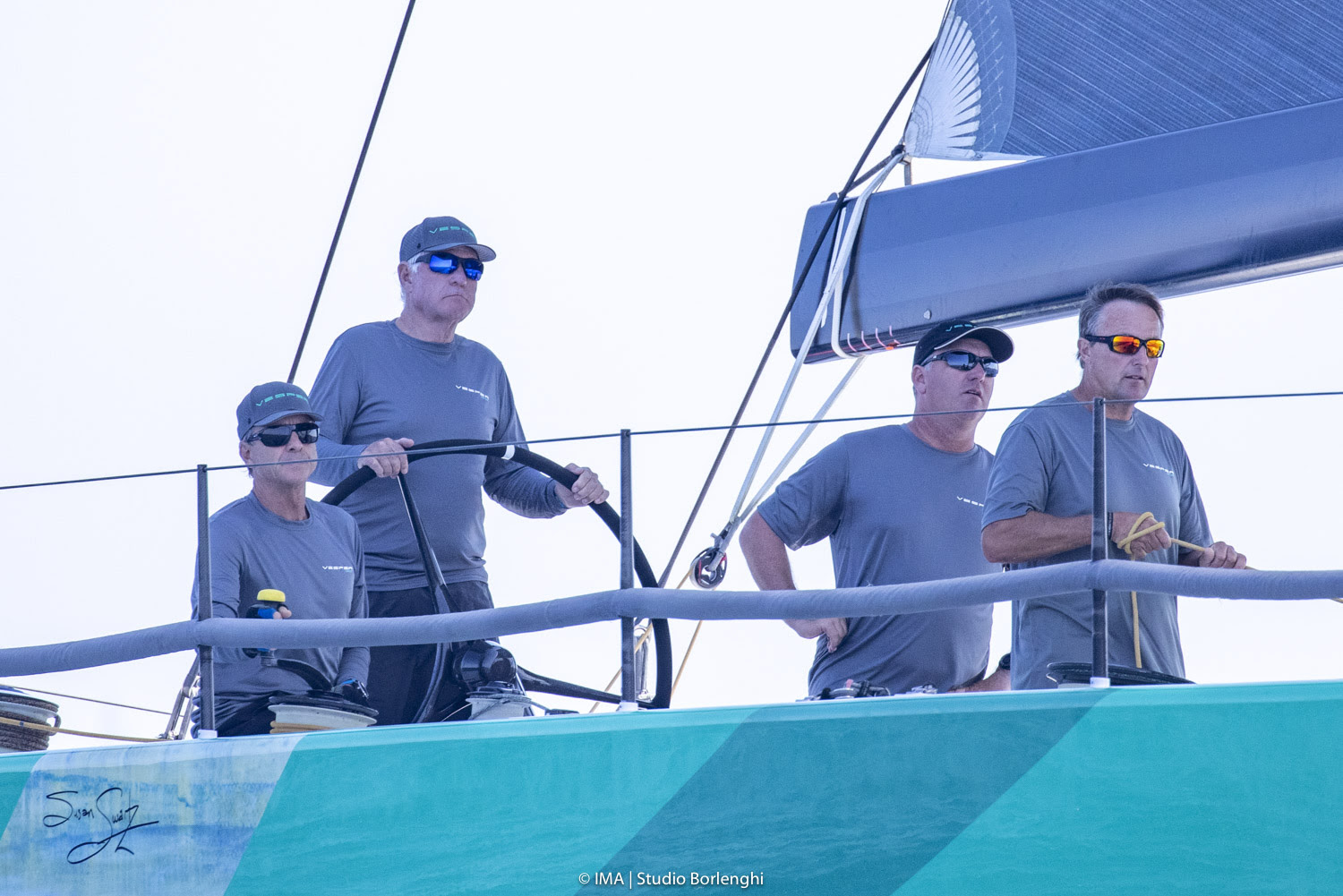 Jim Swartz helms Vesper with tactician Gavin Brady second from right. Photo: IMA / Studio Borlenghi
"We were waiting for the breeze and the race committee obviously made the right call and we got off a great race," recounted Swartz of his day. "It was fun racing in the afternoon – the colours are different and it is cooler. There was great breeze – we saw at times 16 knots. It was a very close race, all five boats were in and out of contention all the way through. Cannonball was too fast. We couldn't catch them."
Vesper has sailed a couple of events on the US East Coast this year and Swartz has taken time to update his yacht's colour scheme using artwork from one of his wife Susan's paintings. Otherwise he has been counting off the days to the annual big fight here. "I have been really looking forward to this."
As ever, New Zealander Gavin Brady is on Vester calling tactics. "It was five Mini Maxis going at it, neck and neck the entire way," Brady described their day. "If someone gets out in front they get reeled back in. The whole fleet was side-by-side going down through Bomb Alley. We had a little ballet with Bella Mente and rolled them, but that launched Proteus and Cannonball."
As to Cannonball's lead, Brady reckons that part of this is down to the Italian team's "home field advantage. They know the area. They are comfortable. Those guys don't go the wrong way very often here."
There was much delight for the Mylius Yachts crews, who, in a phenomenal outcome, claimed the entire Mini Maxi 2 podium today. In first, appropriately, was the Mylius 80 Twin Soul B of Mylius Yachts' President Luciano Gandini, while the Mylius 65 Oscar 3 of Aldo Parisotto was second and Fra Diavolo, campaigned by Yacht Club Gaeta President Vincenzo Addessi, was third.
"I think probably it was because of the weather conditions," said Gandini of their victory. "The wind was much better. Twin Soul B needs more than 7-8 knots. Yesterday it was not enough, plus we were OCS, so it was difficult to get back."
Both Gandini and Parisotto enjoyed the conditions today, racing later in the afternoon and even the downwind start. "We occasionally do that in other races. It was exciting!" said Parisotto. "Today was typically Sardinian conditions and I loved it."
While a layday was scheduled for tomorrow, racing will instead take place starting as usual at 1200 local time.
by James Boyd / International Maxi Association